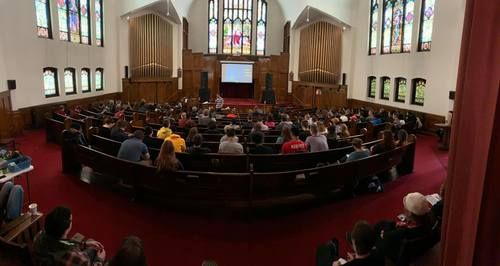 The Vineyard Church is one church meeting in multiple locations, and the Westcott Site is the growing community located in the Westcott and Syracuse University neighborhood. Our services are every Sunday at 10:30am where we have live worship and the same message from the Syracuse site done via video with John Elmer, our Lead Pastor. We have Kids classes for children 0-10 years at the site as well as small groups that meet during the week


What To Expect for Our Indoor Service:
Our service time is back to 10:30AM
We will be practicing our ground rules of D. T. M.
We will keep our Distance of at least 6ft. Families will be seated together and we will skip pews and have extra overflow space in the lobby.
We will refrain from Touch by not giving handshakes or hugs.
We will expect everyone over the age of 3 years old to wear a mask for the duration of the service for everyone's safety and comfort.
There will not be any exceptions to this.
Every family will sign in on entering the front door. - Children (4+) will remain with their families for worship and will join their teachers after worship for 20-30 minutes of teaching and activities downstairs in the large room. They will continuously wear masks, will distance as much as possible and will be offered hand sanitizer multiple times.
After service, there will be an option for hot coffee and cocoa outside of the church.
Service Times
Service - Sundays at 10:30AM
Location
718 S Beech Street, Syracuse, NY.